The University traces its beginnings to 1926 and the origins of the city of Coral Gables, a community marked by Mediterranean architecture and lush landscaping. When developer George E. Merrick made a gift of land and a cash endowment as the University's foundations, he envisioned an institution of higher learning that would embrace both American continents. Since then the University of Miami has established an international presence in medicine, engineering, mathematics and physical sciences, the marine sciences, and other disciplines.
Through these and a number of other innovative programs, the University has met the academic challenges of a student population representing all 50 states and more than 100 nations. At the same time, the University has addressed the needs of a diverse and vibrant South Florida community.
The University of Miami, a privately supported, non-sectarian institution currently enrolls over 15,700 students in approximately 100 undergraduate, 95 masters, and 55 doctoral and professional areas of study. The graduate programs constitute 24 percent of all the University's students and 31 percent of all degrees it awards. Over 100,000 alumni reside in all 50 states as well as in over 140 foreign countries.
In the 2014 edition of the U.S. News & World Report's annual "Best Colleges in America" issue, the University of Miami has risen to the number 48 slot, up 15 spots in the last ten years.
The University of Miami is accredited by the Southern Association of Colleges and Schools. It is a member of the American Association of University Women, the American Council on Education, the American Council of Learned Societies, the Association of American Colleges, the Florida Association of Colleges and Universities, and the National Association of Independent Colleges and Universities.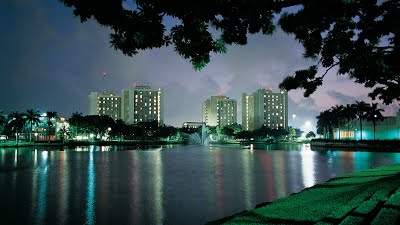 ---
UM CAMPUSES
Four UM campuses incorporate 151 university-owned buildings on over 400 acres of land.
Coral Gables: The Coral Gables campus, which comprises two colleges and ten schools, is located on a 260-acre tract in suburban Coral Gables. It has 103 buildings occupying 2.95 million square feet.
Medical Campus: The University's medical campus consists of 12.5 acres within a University of Miami/Jackson Memorial Medical Center complex.
Rosenstiel School Campus: The Rosenstiel School of Marine and Atmospheric Science is located on a 16-acre waterfront campus on Virginia Key in Biscayne Bay.
South Campus: The south campus, located ten miles southwest of Coral Gables, opened in 1986 on a 106-acre site.